Naughty Netherpunch - Renryuu: Ascension Version 21.04.06 + Walkthrough
Renryuu: Ascension follows the story of Ryen, a half dragon-half human. After some sudden events Ryen becomes the King of his country and starts his dutys as the King in the castle while also traveling around when needed to take care of many problems inside and outside of the country.
- New elf village Orchel south in Dorgania. Includes a bunch of new girls with full body CGs.
- Sex scene with Wendy starting at the inn/bar of Calterburry in Begus
- Good path Mai now has a new event with a short dialog about her past.
- Bad path Mai now has a new event to walk around the prison area after you left her out of her cell and walked out of the area as Ryen via the left exit back to the secret bedroom.
Censorship: No
Version: 21.04.06 + walkthrough
OS: Windows/Mac/Android
Language: English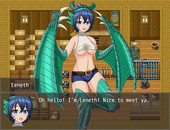 Size: 1018 mb