Alithini Istoria - Full Stride Chapter 3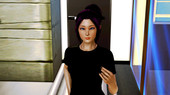 Release Date: 2019-03-28
Censored: No
Version: chapter 3
OS: Windows
Language: English
Size: 269mb
In Full Stride, you assume the role of a university graduate who's had a recent streak of bad luck — you broke up with your first love before graduation, and you've been jobless ever since. Fortunately, a random encounter with an old friend at the gym has lead to a job interview, and you've dedicated the rest of your summer preparing for it.
Now you look forward to new opportunities and new people to meet. Will you relish being single, or will you look to fill the emptiness in your heart?
Added 1675 lines for Chapter 3 -- an estimated 20-35 minutes of content depending on your reading speed.
Added some animations and sound effects for Chapter 3.
Chapter 3 is the first chapter to feature unique results depending on your choices
Full Stride is a 
FREE
, story-driven visual novel that details the life of a recent graduate as he (you) turns his luck around with a new job, and discovers what it means to be single again after a rough breakup with his first love.
At the moment, Full Stride is a glorified kinetic novel, but I have plans to expand on both player choices and adult content dramatically. My ultimate goal with this visual novel is something that will span many chapters, include at least three romance routes, and have a plethora of adult scenes.
Download:

From Uploaded

From Keep2Share

From FileBoom


From FlorenFile