SerialNumberComics - Foot Of The Mountains 2 Version 3.0 + Save + Walkthrough + Compressed
You play as Daniel , who returned home to find his parents murdered... Not knowing how to handle the situation, he decided to accept the invitation of William, the partner of his father, and thought it's best for him to move and live with them temporarily, until the investigation is done. Unbeknownst to him, moving will lead him closer to finding out the clues of the murder, and maybe finding the love of his life...​
v5.0
What's fixed:
Added Rhonda inhibitions in the stats page
Fixed a problem where Melinda progress percentage doesn't update
A couple of nightclub scenes with Ann (You need 170 points)
Getting pills from Linda the doctor (very useful in V6) ** Note: Linda gives you the pill only once, please choose "Warn her you're about to cum". In this scene you'll get only one pill no matter how many times you try, there's a bug if you choose Not to warn her.
Jogging alone with Melinda.
Censored: No
Version: 2 Version 3.0 + save + walkthrough + compressed
OS: Windows/Mac/Android
Language: English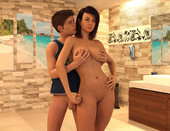 Size: 2170 mb