Saberoge - Boat Version 1.0
Dom's a teenage guy going on a senior class boat trip, hoping to hook up with one of the girls in his class, or his teacher, or all of the above. He's coming off a surprising – some might say implausible - run of success with other girls, and there's no reason for him to think the streak won't keep going on this boat trip. Yes, make no mistake, this is going to be quite a boat trip.
Then the boat sinks, and he wakes up on the shore of a mysterious uncharted island next to a girl who only speaks Hawaiian, badly.
Release Date: 2019-09-20
Censored: Yes
Version:1.0
OS: Windows,
Language: English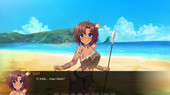 Size: 1270 mb